The history of Julie Pyne Golf
Julie played tournament golf as an amateur and professional, competing on the LPGA tour for seven years.
Julie competed in over 150 LPGA tournaments and 6 U.S. Opens, eventually rising to the rank of 31st in the world. Over her golfing career, she amassed a number of collegiate and women's amateur titles.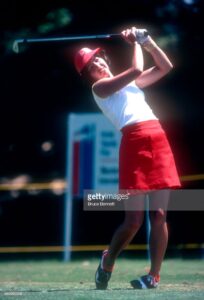 After a successful golfing career, Julie's in-depth knowledge of golf swing mechanics, along with her ability to relate with students and a passion to teach others, has allowed her to help others improve and enjoy the game of golf. Over the past 20 years, she has developed a loyal following through golf instruction and in 2020 launched her Remote Coaching Program.
In addition to private golf instruction, Julie is a certified coach for The First Tee, offers private and virtual coaching to local junior golfers, was the Girls' Varsity Golf Coach at Southwest High School for 8 seasons and began the LPGA-USGA Girls Golf program in Green Bay and Escanaba.
Text: +1 920 544 7829 Email: julie@ juliepyne.com